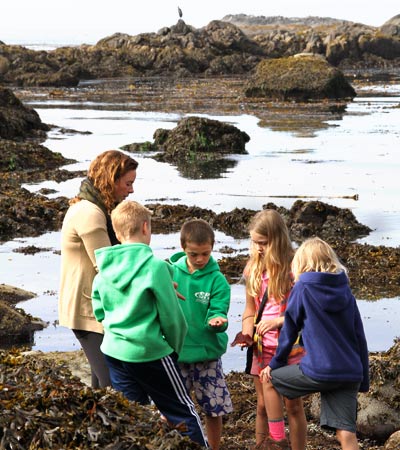 Interpretive signs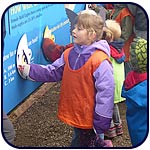 Signs along several sections of the trail offer self-guided interpretation year-round. Children's interactive interpretive signs at Big Beach Park, First Nations signs at Terrace Beach, historical signs at the Lighthouse Loop and natural history signs at points of special interest, will enrich your understanding as you enjoy the views on the trail.

Follow us on Facebook to learn about current trail events.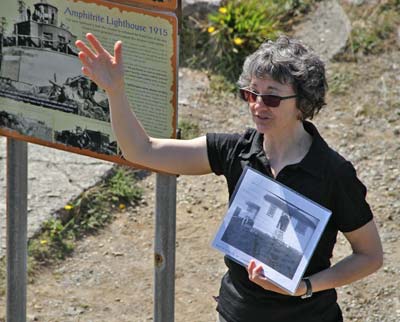 Enrich your visit with a guided walk this summer. Photo: SIlva Johansson's "Pass of Melfort Shipwreck Story".
Free Interpretive Walks
Programs to enhance your visit this fall
The Wild Pacific Trail is a unique outdoor classroom that presents incredible opportunities to connect people to nature through its location, fixed interpretive signage and specialist-led programs. Programs aim to engage both visitors and local communities. Topics range from natural to cultural history.
Long weekends this fall Silva Johansson will lead her famous "Pass of Melfort Shipwreck Story". Walks starting at the Whale lot on the lighthouse Loop. Her dates will be Saturday, October 8, 2016 AND Saturday, November 12, 2016.
May to September Guided Walks
In the summer, most walks start from the Whale parking lot at 10 am (Lighthouse Loop trailhead). Friday walks start at the picnic area at Big Beach Park.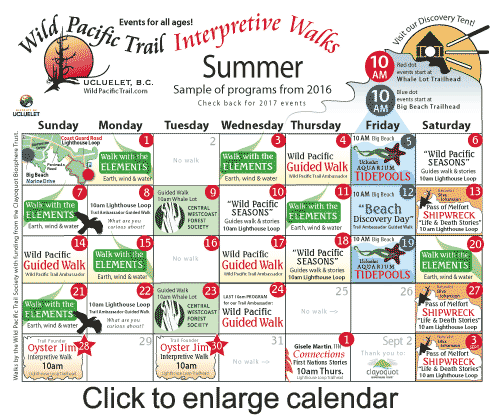 Join us for a popular Lighthouse Loop interpretive walk. Learn about the wild weather, impenetrable rainforest and coastal geography that doomed so many ships and survivors in the "Graveyard of the Pacific". History comes to life in the story of the sinking of the Pass of Melfort -- the tragic event that inspired the building of the lighthouse. Bring you questions to learn about the forest and all creatures great and small.
The Ucluelet Aquarium will repeat their fantastic tidepool exploration at Big Beach on biweekly Wednesdays led by two Aquarium Guides starting in June. Gumboots or sturdy shoes suggested. Toddlers are not encouraged due to the rough rocky terrane.
Oyster Jim will also host several walks offering his unique personal history with the trail and highlight features of the coastline.
Guest speakers are also planned to give more in-depth talks on specific topics, check posters and this page for updates.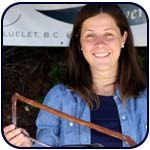 Visit our Discovery Tent at the lighthouse next summer
New for 2016, the trail society sponsored a naturalist to welcome you to a Discovery Tent at Amphitrite Lighthouse five days a week! If you miss the 10am program your questions will not go unanswered. Start your walk at the whale parking lot trail head and gather your questions as you walk. If the naturalist is off duty interpretive signs answer frequently asked questions.
In order to ensure accessibility to everyone, summer programs are offered at no charge (no admission or parking fees). These programs depend on donations from visitors and partnerships with funders such as The Clayoquot Biosphere Trust.
We are grateful to program experts such Silva Johansson, the Ucluelet Aquarium and Central West Coast Forest Society for their expertise. The trail society sponsors these walks and networks with the District of Ucluelet.
Interpretive signs are also a great way to learn year round:
— Terrace Beach First Nations Interpretation