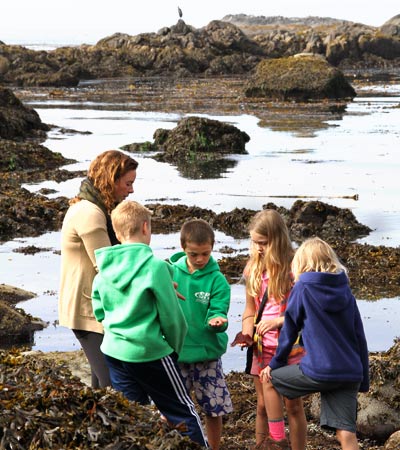 Interpretive signs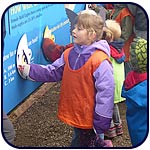 Signs along several sections of the trail offer self-guided interpretation year-round. Children's interactive interpretive signs at Big Beach Park, First Nations signs at Terrace Beach, historical signs at the Lighthouse Loop and natural history signs at points of special interest, will enrich your understanding as you enjoy the views on the trail.

Follow us on Facebook to learn about current trail events.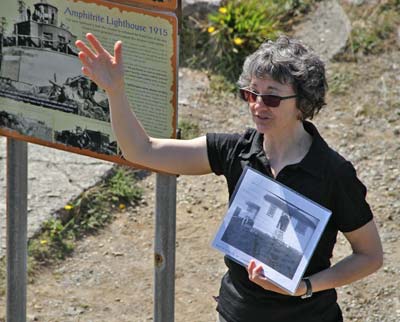 Enrich your visit with a guided walk this summer. Photo: SIlva Johansson's "Pass of Melfort Shipwreck Story".
Free Interpretive Walks begin in June 2018

10 AM daily this summer
The Wild Pacific Trail is a unique outdoor classroom that offers incredible opportunities to connect people to nature. Programs aim to engage both visitors and local communities. Topics range from natural to cultural history. Every walk is flexible so you can ask questions.
Lighthouse Loop interpretive walks
2018 summer walks start from the Whale parking lot at 10 am
(Lighthouse Loop trailhead).
Friday walks start at the picnic area at Big Beach Park.

Sample Programs:
The HIDDEN WORLD of the Wild Pacific: Mondays & Saturdays
Does the ocean really sparkle at night?
Do mushrooms and trees communicate?
Go beyond the charismatic displays of whales, sea lions, and bald eagles. On this easy 1 hour tour we will seek out captivating plants and important animals that often go unnoticed.
10am: Meet at the Lighthouse Loop Whale Parking Lot
COASTAL MIGRATIONS: Sundays
Why do animals migrate thousands of kilometers to our shoreline?
From microscopic creatures to the largest of marine mammals, join our naturalist on a walk to discover what makes animals move!
10am: Lighthouse Loop Whale Parking Lot
HIKE THE LOOP: Wednesday and Thursdays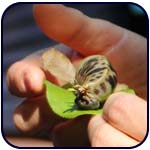 Meet trail naturalist: 10 AM Lighthouse Loop Whale Parking Lot
A great chance to learn as you walk at a faster pace. Bring your curiosity and walking shoes.
ROCK n' ROLL: learn about rocks, earthquakes and coastal geography from a geologist on June 17 & 29th or July 4th. Where did Vancouver Island come from? Were there dinosaures here? Why are the rock black?
Even local residents are sure to learn something, join us!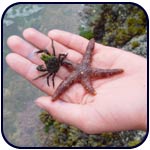 The Ucluelet Aquarium will repeat their fantastic tidepool exploration at Big Beach on biweekly Fridays led by two Ucluelet Aquarium Guides starting in June. Gumboots or sturdy shoes will protect your feet from sharp rocks, please avoid sandals!
This walk inspires respect for unseen creatures and the impact of plastics on the ocean. This tour is not suitable for toddlers due to the rough rocky terrane, small children must be supervised by an adult please.
Fridays meet at the picnic area at Big Beach Park 10 am.
Central West Coast Forest Sociey will host walks on alternate Tuesdays offering insights into what makes an old growth rainforest thrive. 10am: Lighthouse Loop Whale Parking Lot trailhead.
Guest speakers are also planned to give more in-depth talks on specific topics, check posters and this page for updates.
Shipwreck of the Pass of Melfort
Silva Johansson leads walks to the site of this tragic shipwreck and in the Spring you can attend an indoor multi-media presentation. History comes to life in the story of the sinking of the Pass of Melfort -- the tragic event that inspired the building of the lighthouse. Learn about the wild storms and coastal geography that doomed so many ships and survivors in the "Graveyard of the Pacific".
Visit our Discovery Tent at the lighthouse all summer
The trail society sponsors a naturalist to welcome you to a Discovery Tent at Amphitrite Lighthouse five days a week! If you miss the 10am program your questions will not go unanswered. Start your walk at the whale parking lot trail head and gather your questions as you walk. If the naturalist is off duty interpretive signs answer frequently asked questions.
In order to ensure accessibility to everyone, summer programs are offered at no charge (no admission or parking fees). These programs depend on donations from visitors and partnerships with funders such as The Clayoquot Biosphere Trust.
We are grateful to program experts such Silva Johansson, the Ucluelet Aquarium and Central West Coast Forest Society for their expertise. The trail society sponsors these walks and networks with the District of Ucluelet.
Interpretive signs are also a great way to learn year round:
— Terrace Beach First Nations Interpretation