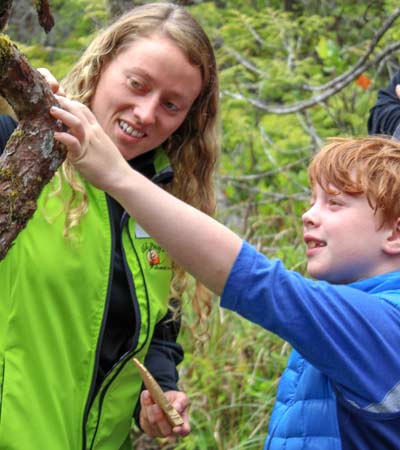 Enrich your visit with a guided walk this summer. Photo by West Coast NEST.
Interpretive signs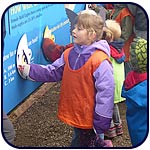 Signs along several sections of the trail offer self-guided interpretation year-round. Children's interactive interpretive signs at Big Beach Park, First Nations signs at Terrace Beach, historical signs at the Lighthouse Loop and natural history signs at points of special interest, will enrich your understanding as you enjoy the views on the trail.

Follow us on Facebook to learn about current trail events.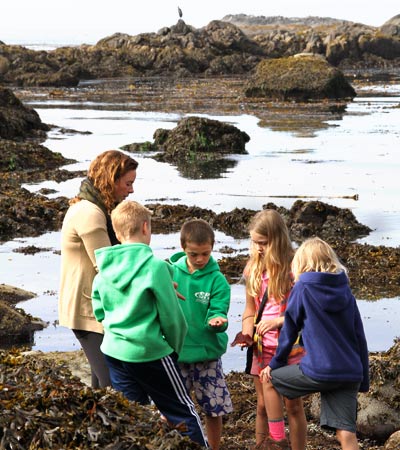 Ucluelet Aquarium guided Tidepool Tour, every other Friday in the summer. Our Trail Ambassador also leads "Treasures of the TIde" walks on Fridays.
Free Interpretive Walks !
10 AM daily Thursday to Saturday
The Wild Pacific Trail is a unique outdoor classroom that offers incredible opportunities to connect people to nature. Easy to walk, one hour programs aim to engage both visitors and local communities. Topics range from natural to cultural history. Every walk is flexible so you can ask questions.
Interpretive walks at 10 am
Thursday walks start from the Lighthouse
Friday walks start at the picnic area at Big Beach Park.
Sarurday at the Whale parking lot (Lighthouse Loop Trailhead). If you reach the lighthouse you have driven too far.
Program descriptions:
STORM WATCH: Thursdays
10am: at Amphitrite Lighthouse
Question: What is the "Graveyard of the Pacific"? Extreme weather has at times been disastrous for humans, but many species manage to thrive in this stormy temperate rainforest. Discover how the coastline is continually shaped by weather, how waves grow, what is dangerous and how to "be CoastSmart" to save lives. Active waves likely.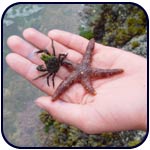 Treasures of the TIDE: Fridays
Meet at the picnic area at Big Beach Park 10 am.

Question: Why are micro plastics harmful to sea creatures? Join our Trail Ambassador for a first hand discovery of plants and animals living here. Follow us to touch a real shipwreck! Rubber boots or sturdy footwear is highly recommended.
This walk inspires respect for unseen creatures and the impact of plastics on the ocean. This tour is not suitable for toddlers due to the rough rocky terrain, small children must be supervised by an adult please.
CARNIVORS, Wolf and COUGAR walk: Saturdays Nov. 17 & Dec 1
10am: Lighthouse Loop Whale Lot trailhead (first lot on coast guard road)Question: How can I tell a wolf print from a dog ? Take a walk on the wild side! Investigate the lives of cougars and coastal sea wolves, find out what makes them so extraordinary and what you can do to help protect them! Bring your curiosity, questions and stories. Rain or shine.

SPECIAL GUEST SPEAKERS: Check back for future walks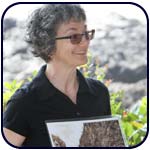 Silva Johansson offers two walks during the summer months.
BOG SURPRISE: Enjoy a guided walk into the unique and strange world of a bog with an expert guide. Magical insights into carviverous plants, explosive spores and why wetlands are the heros of our planet.
Pass of Melfort Shipwreck Walk: Silva Johansson leads this walk to the site of a tragic shipwreck that inspired the creation of Amphitrite Lightlouse at the turn of the century.
In the Spring you can attend her indoor multi-media shipwreck presentation. Watch this page for updates.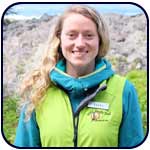 Visit our Discovery Tent at the lighthouse all summer
The trail society sponsors a naturalist to welcome you to a Discovery Tent at Amphitrite Lighthouse five days a week! If you miss the 10am program your questions will not go unanswered. Start your walk at the whale parking lot trail head and gather your questions as you walk. If the naturalist is off duty interpretive signs answer frequently asked questions.
In order to ensure accessibility to everyone, programs are offered at no charge (no admission or parking fees). These programs depend on donations from visitors.
We are grateful to program experts such the Ucluelet Aquarium the Raincoast Education Society, Silva Johansson, and Central Westcoast Forest Society for their expertise. The trail society sponsors these walks and networks with the District of Ucluelet.
Planning ahead?
Join us in December for more guided walks. Rain or shine the delights of the rainforest come alive with the change in the weather. Check back for dates.
Interpretive signs are also a great way to learn year round:
— The new Bog Woodland Interpretive Loop — Terrace Beach First Nations Interpretation — Children's Interpretive Trail