The Wild Pacific Trail Society is happy to announce that the new bog woodland interpretive loop is now open.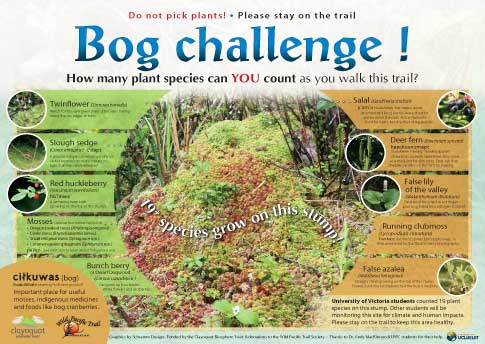 Thanks to Oyster Jim for building the newest jewel in the Wild Pacific Trail's crown with great skill to preserve this special wetland. This clever path is built like a narrow grave-topped raft, so it is bouncy to walk on. Be advised, visitors with poor balance may not feel steady.
Please take special care on this trail to avoid damaging the sensitive plants in the bog, footprints take years to heal. 11 Interpretive signs will guide you through this special ecosystem, plan time to read!
Thanks to Andy MacKinnon /the UVIC Field School for their help in research and monitoring, and the Clayoquot Biospere Trust for sign funding.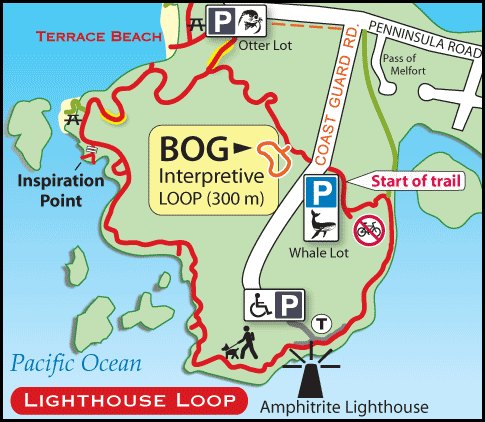 Just walk the Lighthouse Loop to find this new 300 metre loop. Turn left at the map sign to reach the bog trail first, or walk the loop to the right and visit the bog near the end of the lighthouse loop. Click the map above for a printable PDF of this map.
Inspiration Point
Also be sure to visit our 2017 project, new viewpoints near He-tin-kis Beach on the Lighthouse Loop.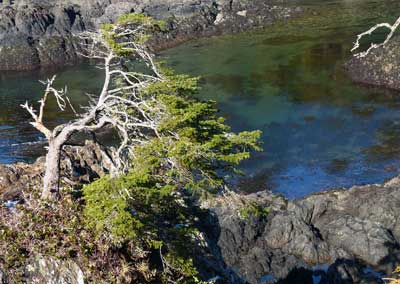 Wild Pacific Trail update! from RTown TV Long Beach on Vimeo.
Thank you to our funders for this project, the District of Ucluelet and countless donors over the years who have made trail expansions possible.