"Kids are going to love this!" - Oyster Jim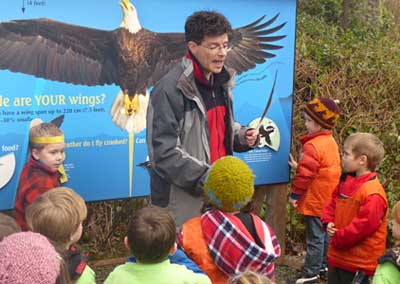 Free naturalist programs
The Wild Pacific Trail is a unique outdoor classroom that presents incredible opportunities to connect people to nature via interpretive signs and specialist-led programs. Spring to fall programs aim to engage both visitors and local communities.
Parking
The main parking area is at the Ucluelet Community Centre at the intersection of Matterson and Marine Drive.
Toilets
There is an outhouse toilet at Big Beach Park but no running water.
Stay off the rocks
Just because you see someone on the rocks do not assume it is safe. Keep your eye on the ocean, waves can sweep in when you do not expect it.
Sections of the trail are near cliffs, keep your children close.
A great place for kids of all ages!
Children's Interpretive Trail at Big Beach Park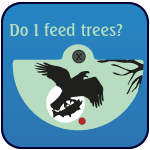 Be sure to check out the interactive signs designed for children (and adults) to discover fun and surprising facts about creatures and plants unique to this area. How you can help animals survive and thrive are also featured. Kids of all ages will enjoy solving a rotating creature puzzle and exploring a REAL turn of the century shipwreck. There is also a Scavenger Hunt that ends at a geo cache so bring a small gift to trade!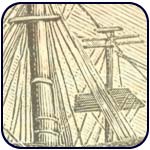 Big Beach Park is a sunny beachfront picinic area across the street from the Ucluelet Community Centre. If the tide is low, take a moment to stop and enjoy this easily accessible beach. In summer months you can take a tour of tidepools at the beach with an aquarium guide. Remember if you find a small crab always return it to the spot you find it. Please do not collect shells, they often hide a small animal that will die in your luggage. The beach is also nice at friendly tides for splashing in the shallows, but the ocean is too cold and rough for swimming.
The new Bog Interpretive Trail will also delight children who like to learn about cool plants. 11 interpretive signs offer fun facts and insights into bog ecology. This trail is very delicate and narrow, please do not touch sensitive plants or walk on the moss.

---
Trail Exploration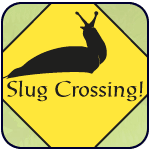 Your visit to the Wild Pacific Trail can be a lot of fun for even small children. Kids will delight in sitting on trees hundreds of years old, bent into perfect seats. Views are right on the edge of the ocean so even very small people will get to see the crashing waves and the sparkle of sun setting into the sea.
Be sure to take time as you walk to look along the trail for the biggests slugs in North America, listen for the calls of eagles and smell the pungent flower of the skunk cabbage.
The closer you look the more you will discover. Please take only pictures.