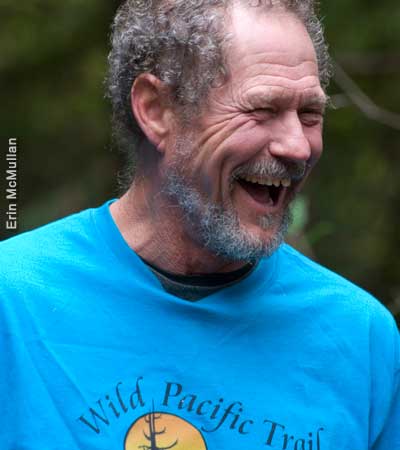 My history:
"Born in Colorado in 1948, I moved to Ucluelet, British Columbia, Canada in 1979. I immigrated as an oyster farmer, thus the handle of 'Oyster Jim'. Soon after settling here I started talking about constructing a walking trail along this coastline. That dream resulted in the establishment of the Wild Pacific Trail." - Jim Martin
---
"Jim describes himself as an 'average guy' - which is true enough if you imagine 'average' to be synonymous with 'super-human'."
— John D'Onofrio,
Adventures North West Magazine 2015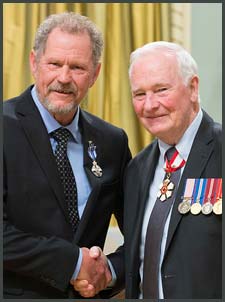 Oyster Jim Martin accepts a
Meritorious Service Medal from the
Governor General of Canada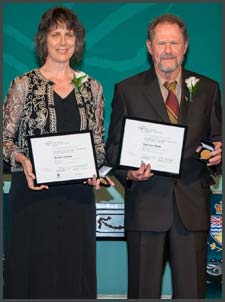 Oyster Jim Martin and Barbara Schramm
accepts a BC Community Achievement Award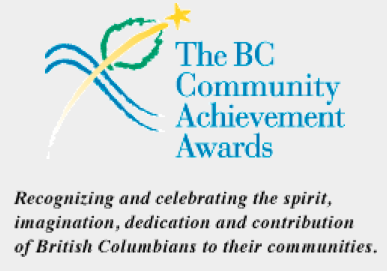 Oyster Jim's Story: The Birth of a Famous Trail
A story of determination and vision:
"I start from impossible and work backwards from there," trail maverick Oyster Jim Martin said of his approach to building the Wild Pacific Trail along Ucluelet's spectacular coastline.
"We have this diamond in the rough and here I am polishing away at it. I can't believe I have this palette on which to do my artwork. I have encountered many people out on the trail crying…they are so excited to be on the trail and taking in these views," said Martin.
For his visioning and long-term efforts at bringing Ucluelet's local gem to life Jim has received Canada's Meritorious Service Medal, and BC's Community Achievement Award.
"It's a miracle he was able to bring all those people together to create a free public use trail which crosses federal, provincial, private, district, park and First Nations' lands," says Wild Pacific Trail Society President, Barbara Schramm. "It couldn't happen without him."
Inspired by his initial exploration of the coast, both offshore as a fisherman and as a hiker navigating rocky headlands, Jim first began talking about the idea of a trail in 1980.
Jim's enthusiasm for the trail is infectious, but he would need to persist in his vision for a free public use trail for 16 years – approaching Council twice – once in 1988 and again in 1996 - before getting the go-ahead to build. He also credits Charles Smith, then representative of Weyerhaeuser, for his encouragement and support in those early stages to help gain access to private development land.
The new Ancient Cedar's section is a wonderful illustration of the away Jim applies his intimate knowledge of the coastline and artisan's eye. He surveys and sculpts each section of this nature trail using green trail building practices.
"The District of Ucluelet has been understandably very supportive and made this new section come to life through their support," said Jim.
1999 • Wild Pacific Trail Society formed and Lighthouse Loop built
2002 • 6 km extension from Big Beach to highway
2007 • Brown's Beach parking lot and Tugwell connector trail
2008 • Brown's Beach connector trail and Lighthouse Loop parking lot
2009 • He-Tin-Kis Park boardwalk replaced with gravel trail
2010 • Terrace Beach Interpretive Trail extension
2011 • Artist loops section 1
2012 • Artist loops section 2
2013 • Ancient Cedars & Rocky Bluffs
2014 • Children's Interpretive Trail at Big Beach Park
2015 • Completion of the Artist Loops & 3 new decks in the fall, PLUS new viewpoints built on the lighthouse loop in the fall.
2016 • Completion of 10 new viewpoints on Lighthouse Loop and a unique "Crow's Nest" on artisit Loops.
2017 • Completion of Inspiration Point overlooking He-Tin-Kis Beach.
2018 • Completion of Bog Interpretive Loop close to Whale parking lot, Lighthouse Loop.
2021 • Spring Cove Interpretive Trail opens with mudflat and bird watching signage
Together with the Wild Pacific Trail Society, and the community of Ucluelet, Jim is still working towards creating an unforgettable firsthand experience of the coast. The dream is to reach Half Moon Bay to connect to the existing trail network through the Pacific Rim National Park to Long Beach.
Jim's contribution was recognized in 2016 when he was awarded the BC Community Achievement Award and in 2017 he was awarded Canada's Meritorious Service Medal.
To learn more about the history of this trail watch this 22-minute video.
Maintenance of the Trail: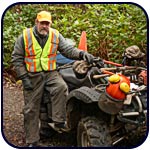 Jim has not only built a dozen kilometres of trails, he supervised maintenance from 2012 to 2019. The District of Ucluelet now manages regular maintenance.
Thank you Jim for continuing to build what he would call "the 8th wonder of the world".