Frequently asked questions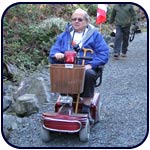 Is this entire trail wheelchair accessible?
No. The trail is designed as a walking/light-hiking trail. Wheelchairs can access the Amphitrite Lighthouse from the end of Coast Guard Road. There is a short paved section there. Wheelchair users may find other short sections of trail that are accessible; however there may be stairs, steep sections and the trail can be uneven or soft.
Are bikes allowed on the trail?
No, BIKES ARE NOT ALLOWED. Please leave your bikes at the trailheads in one of the bike racks. This trail has no sightlines around frequent corners thus bikes are very dangerous. If you see a cyclist on the trail please call 250-726-7744 so a bylaw officer can enforce the rules.
Are motorized vehicles like motorbikes or all-terrain vehicles allowed on the trail?
No, this trail was designed for walking and hiking only. The use of motorized vehicles on the trail could be very dangerous to those walking on the trail.
Can children walk the trail?
Yes, children will enjoy the trail, especially at Big Beach Children's Interpretive Trail. Supervision is required, as the trail can be uneven and is often close to coastal cliffs. Please keep your children close and walk, don't run.
Are dogs allowed off leash?
NO. Well-behaved dogs on a LEASH are welcome. This trail is very popular with dog owners so please do not bring nervous or aggressive dogs. Please bring bags to pick up your dog's waste and carry it to a garbage bin. If you have no bag, please use a stick to remove waste from the trail, a slug will clean up after you! Unleashed dogs have been attacked by wolves; always maintain control of your pet.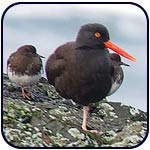 Will I see wildlife on the trail?
There is always the chance you may encounter wildlife, so please be prepared. Deer, bears, cougars and wolves may use the trail or the areas around the trail. Please leash your pets and keep your children close to you. Never allow your dog or children to chase birds or wildlife.
Humans have not been hurt in wildlife encounters on this trail. Most animals will move away if they hear you coming. Talking as you walk is your best protection, bear bells do not work. If you see a wolf shout to scare it away, predators must remain wary of humans or they will become habituated.
Should I carry bear spray?
If you are running the trail in the early morning you are more likely to surprise an animal, consider carrying bear spray as a precaution. If you encounter a bear do not run, speak to the bear in a loud voice and it will likely move away. According to WildSafe BC: if the bear closes to within 5-10 meters deploy your bear spray in a short burst, aiming from the ground up to create a wall between you and the bear. Remember, bear spray is your last defense - your best defense is to avoid an encounter altogether by making lots of noise, being aware of your surroundings and watching for signs of bears in the area.
Can I take my stroller on the trail?
Yes, off-road or trail strollers can access most sections of the trail. Strollers with smaller tires should visit the paved section at the Amphitrite Lighthouse, from the Coast Guard parking lot. Please use caution near cliffs and on steep sections.
Can I fly a drone in Ucluelet?
NO. New regulations in Canada prohibit the flying of drones withing 9 kms of an aerodrome. The WIld Pacific Trail is located next to a helipad near the lighthouse and the harbour is an aerodrome for float planes that fly along the coast. The fine for breaking these rules is up to $3,000.
Are there garbage receptacles and toilets on the trail?
YES. Parking lots and trailheads have pit toilets or portables. No water is available. Please pack out all your garbage (including dog waste) and deposit it in a garbage bin.
Are there picnic areas along the trail?
Yes, there are picnic tables at the entrance to He-Tin-Kis Park and a large beach front picnic area is available at Big Beach Park. Benches are placed along the trail at frequent viewpoints, but if you pack a picnic be sure to leave no trace of your meal, bears can smell food from a great distance.
Can we get married somewhere along the trail?
Yes, people arrange small wedding ceremonies at Big Beach, and photo sessions are often held at viewpoints along the trail. Please contact the District of Ucluelet for more information about wedding ceremonies in public spaces. Parks and trails can not be closed for functions.
Is there RV (camper) parking?
We have a few designated RV parking at the Lighthouse Loop parking lot located off Coast Guard road. If these are full or you have a large RV please use the paved parking area at the lighthouse. Small RVs can also use the Brown's Beach Parking lot. Browns Beach is not recommended for larger RVs as there is limited space to turn around. There is limited RV parking available at the Ucluelet Community Center (near Big Beach). Ucluelet is a small town, it is often quite close to walk or cycle from your campground. No camping is permitted in parking lots.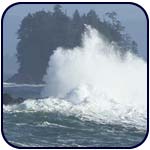 When is the best time to see storms?
October to March are the most likely months to see large waves. Watch surf forecast websites to predict times when waves will be impressive.
Please stay on the trail to reduce your impact on sensitive plants and small creatures under foot such as mussels and barnacles that live on the rocks. Many people visit the trail, help us keep the setting pristine!
No harvesting of plants or animals is allowed to protect this special ecosystem. Help us to keep the WILD on the Wild Pacific Trail.
Can I charge customers for a tour of the trail?
No. Businesses are not permitted to use the trail for profit. Advertising is also not allowed on the trail.
Can I leave a Love Lock?
No locks are permitted in viewpoints to protect the natural character of the trail. About 1 kilometer from the start of the trail we have placed a post with cables for locks. All other locks will be cut off. Please respect this wild space and do not leave any marks on benches, trees or rocks.
Vandals
If you witness a vandal please call bylaw enforcement at 250-726-7744. Call 911 for any other emergency.